INTRODUCING BARKER
When Chris our website designer suggested we write a blog, I decided to start my "blog experience" by introducing Barker, our crazy but affectionate dog. Barker is nearly 2 years old and is a cross Irish Setter/English Pointer. After we lost Max our much loved German Short Haired Pointer two years ago we quickly discovered life at Lower Harton was not quite the same without a dog.
The following photographs show Barker posing on a stone and enjoying a morning walk among a beautiful display of bluebells which we see each year on The Cleave.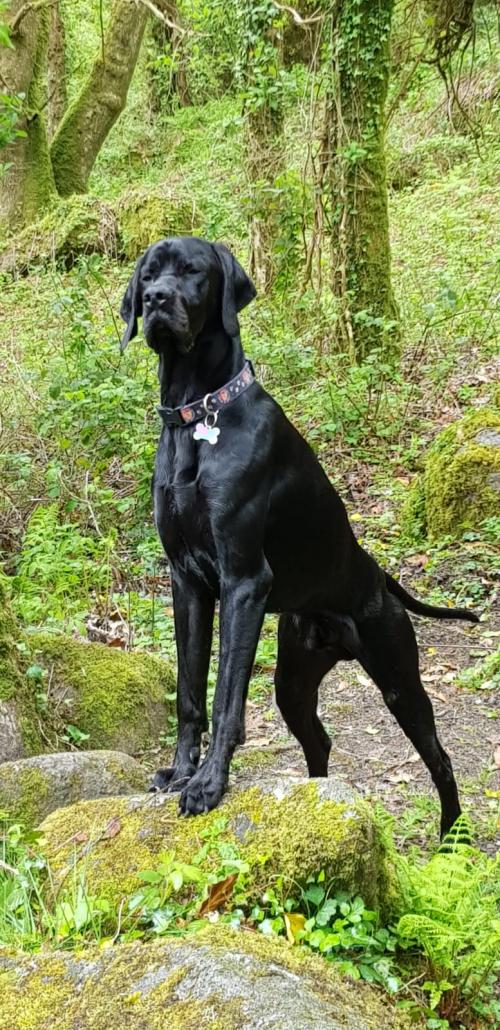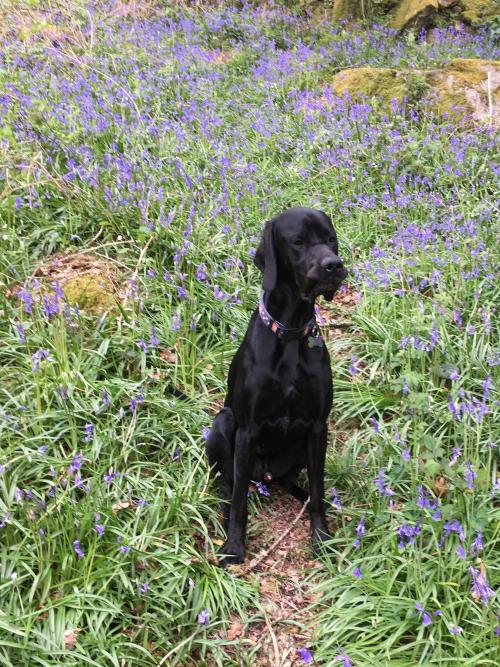 In the time we have had him, Barker has welcomed many friends to The Barn, including saying hello to Sky, a beautiful Gordon Setter who has visited with her family for the last three years and who is returning again next Easter. He does get somewhat frustrated that he cannot access The Barn unless we open the gate, but we want to make sure that guests who do not bring dogs are bothered by Barker coming to say good morning.
One of the benefits of bringing a dog to The Barn are the beautiful walks to enjoy, some directly from The Barn, others by taking a short car ride. The one I most enjoy and do most afternoons with Barker is the walk around Pullabrook Wood. This is a circular route, a five minute car drive from home and takes around 45 minutes. It is a gentle stroll through woodlands, over Hisley bridge and back along the river. It is a great walk for all the family and our Grandchildren particularly love building damns, throwing stones and watching poo sticks drift with the current.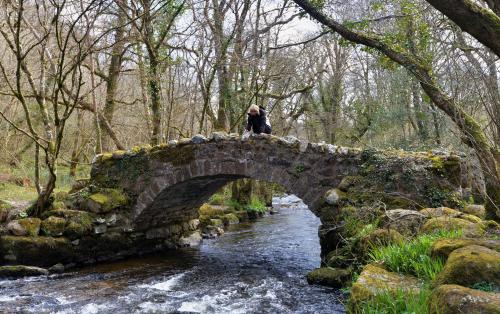 Lower Harton Farm and The Barn are set in approximately 17 acres. Barker loves to run around these fields, looking in the hedgerows to see if he can find the odd rabbit or squirrel to chase (many of which have heard him coming and are long gone!!). Guests are also able to use these fields to exercise their dogs providing they contain no grazing sheep.
If you enjoy longer walks, Dartmoor National Park offers a wide range of experiences for all the family from easy, moderate to difficult. Look out for future blogs on the walks around Dartmoor as Roger trains for his rather more difficult challenge from Weston-super-Mare to Salisbury.